A little over a week ago my son turned one year old. Given that we are under a stay at home order, we could not have a real birthday party for him. However, that did not stop the gifts from coming in the mail. For over a week he got at least three packages a day! Not all of his toys were Montessori-approved, but I was able to order some things for him myself and give my family a few ideas.
So without further ado, here is a list of 6 "Montessori-esque" toys that my one year old got for his birthday, and really seems to enjoy. Hopefully this list will be helpful to someone else out there who is trying to integrate Montessori into their one year old's playtime, and doesn't have an idea of where to start.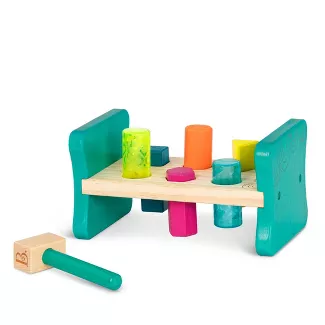 B. Toys Wooden Shape Sorter Hammering Bench, $9.99 from Target

This toy is great for fine motor skill development and shape discrimination. There are four shapes in this toy: three different cylinders, a rectangular prism, a triangular prism, and a hexagonal prism. Noah hasn't quite grasped how to use the hammer on the shapes yet, but he loves matching them and inserting the shapes with his hands.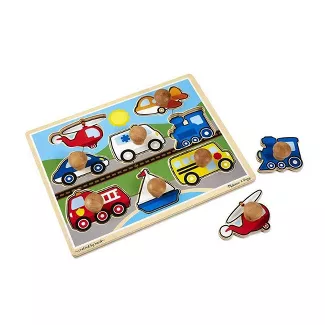 2. Melissa & Doug Vehicles Jumbo Knob Wooden Puzzle, $19.69 from Target

This puzzle has chunky knobs, perfect for little hands that are still developing fine motor
skills. These wooden puzzles are so cute and a great way to introduce vocabulary! Noah
can't put the vehicles in their respective places yet, but he is at least trying. This is
another toy for him to grow into.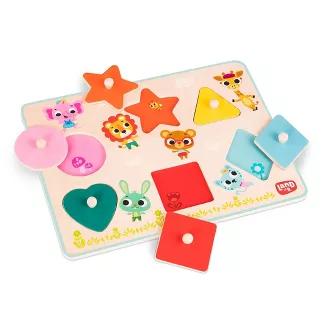 3. Land of B. Wooden Puzzle, $7.99 from Target

Not quite as simple as the Montessori three-shape puzzle, but Noah had already mastered
the single circle puzzle, and again, I was looking for something he could grow into. This
puzzle is brightly colored, and can be used to teach shapes and colors. He has already
mastered putting in the circle, star, and triangle pieces. Only the heart has been causing
him frustration.


4. Priddy Books First Book of Colors Padded, $5.99 from Target
I am a book worm. I love to read, and buy WAY too many books for Noah. We have been
reading together since before he was two months old. And being a Montessorian, I love
that the Priddy Books have real images.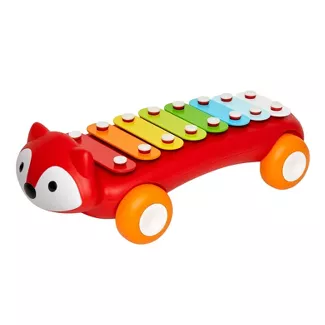 5. Skip Hop Fox Print Explore and More Xylophone, $14.49 from Target
Yes, I know, this toy is made of plastic. But come on, how cute is the fox! I love Skip Hop
products and Noah has had so much fun with this Xylophone. He loves musical
instruments and this was a great addition to his collection. Plus, it has a string, so he loves
to walk around pulling it behind him.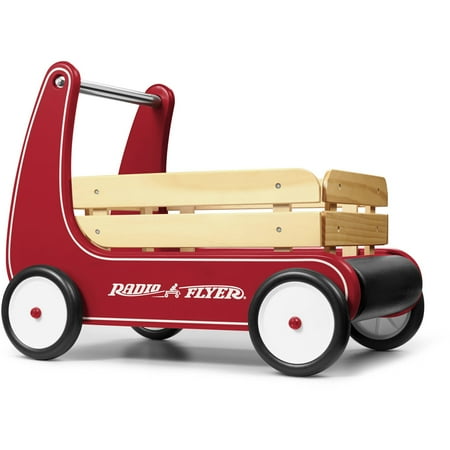 6. Radio Flyer Classic Walker Wagon, $79.99 from Amazon
Noah is already walking, but these Radio Flyers are amazing for practicing those first
steps. Noah loves to push things around and put objects into containers so this wagon is
perfect for him. Many of the products I've put on this list focus on fine motor skill
development, but this one is geared towards gross motor skills.
___________________________________________
Disclaimer: I am not paid in any way to provide my opinions of these products. This list is simply for your information. As a first time mom, I have found myself researching "Montessori activities for ___" every time my son has gotten a month older. As a Montessori teacher and mom, these are the gifts my son received that I feel are most aligned with the Montessori philosophy.
They are educational, engaging, and promote the development of concentration. We have fun playing with them together, and so far they have provided many opportunities for learning.
I hope this list helps you in your search for toddler Montessori toys! I'm sure we will be exploring many more products in the near future, and I can't wait to share them with you!
Have a great day!